The 3RD generation shaping machine
the new 2020 version of our production of cnc shaping machines,
we did new improvement on this latest version .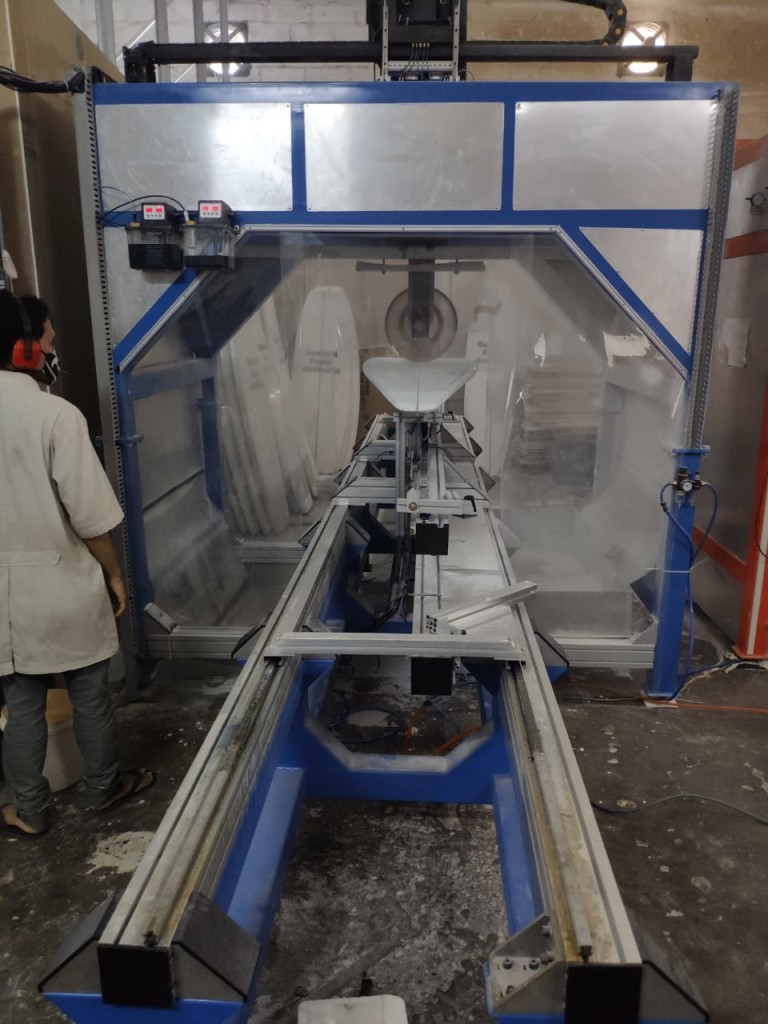 New data controller and servo motors with absolute encoders with close loop.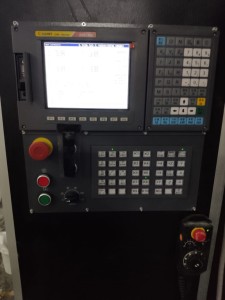 what is meaning ?,all the axis X Y Z are connect in a loop.. if there is a mismatch of position on 1 axis
the controller stop the machine,this bring higher precision,because check every movement in a loop.
the absolute encoder what is ?…is a rotation controller mounted on the servo motor,knowing every time the real position
,even if the machine is off… and there is any manually movement on some axis,
the absolute encoder will be exactly know the new position..when you turn on the machine ..so normal cnc machine with servo motor with encoders

incremental
every time you finish a board or maybe 5 boards ,need to go home..to find again the zero position and the zero position is given from the
limit switch,so basically the precision of this type is lower compare to absolute servo encoders, but the incremental servo encoders can be used with simple controller from normal computer
like match 3 .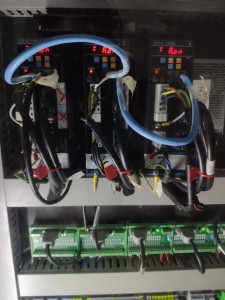 another example with open loop if there is a mechanical problem on 1 axis or electronic problem from a servo drive ..the machine still run and loosing the correct position because
the other 2 axis still running correctly( can happen in case the electric failure from the grid , there is a drop of voltage ).
so basically this to explain difference in open loop and close loop,in industrial machine is preferred the close loop controller.
we tested on many board cuts ,and we designed the best product for high quantity production cutting with this 3rd generation.
The frame
we increased the stiffness of the machine, yes is pretty heavy to install and move,
but the weight is the key of less vibration during operation cutting ,we changed from
pneumatic z axis of the generation 2 ,to lower the weight of axis z with a normal counter weight balance , so with this system
the z axis is pretty basic but we see is the most reliable ,is even faster can reach 5.000 mm per minute, and the axis x can reach even 10.000 mm per minute in all axis interpolated
but this was done for testing the maximum speed( with this speed we cut a bottom in 5 minutes (24 lines) and top in 12 minutes 936 lines ). usually you will cut the lines of deck or bottom with a x axis speed around 7.000 mm
in normal mode if you need to make a board in very short time..you can reach the speed on axis travel feed of 9.000 mm per minute ,and still have a good finish quality.
with the controller you can adjust this speed until 150% .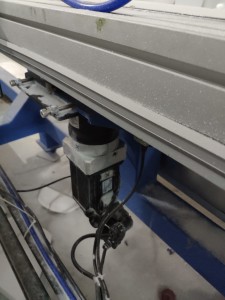 but speed of machining is also related to the spindle speed.
on this 3rd generation we install a 5.5 kw servo spindle able to arrive a speed of 12.000 rpm
but lunch a disc of 350mm at that speed is too high in vibration ,the disc with abrasive
max speed safe is 5.000 rpm when you use the speed travel of 9.000 mm per minute on the cutting lines.
so basically we cut normally with a speed of 4,200 rpm
this 350mm disc is a beast in term of cutting the wood stringer… looks like cutting a butter
with a speed of 1500mm standard .
so basically from 2nd generation this new machine 3rd generation is 30% faster .
your question how many board can cut? let say shortboard ,1 pcs every 10 minutes top
and around 20 minutes for the top, also depend how many lines of accuracy you put on shape 3d .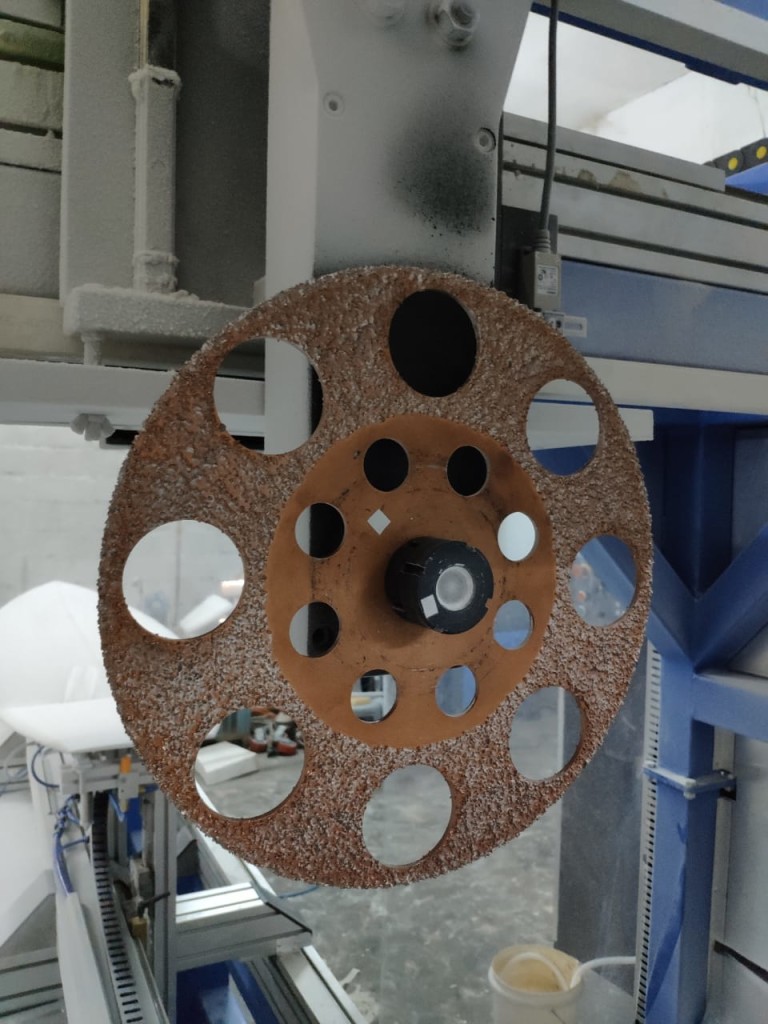 Blank on the machine
this a very important how the blank is connect to the machine
any movement of the blanks will result in imperfection during the cut
so this aspect we designed a anchorage to the aluminum frame x axis
with 6 vacuum holder pads and 6 pad ,to give the best to connect the blank without any
movement .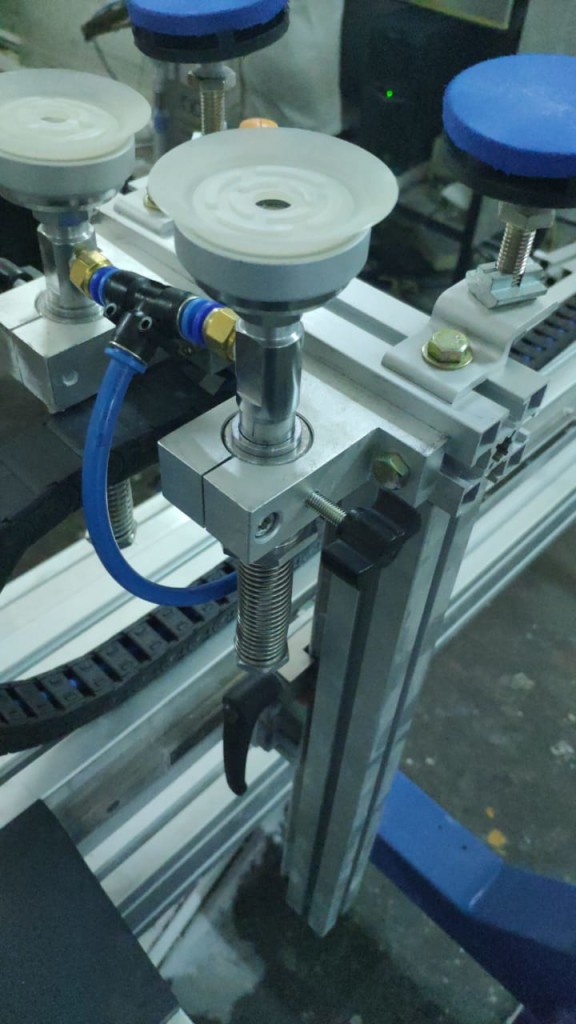 the column are mounted on linear rail to ensure high precision
and easy positioning under the blank.
we are using vacuum generator more reliable than vacuum pump,easy to replace not expensive
and can run with a normal compressor,( if you cut more than 4 boards by day we suggest a screw compressor
with 800 lt tank)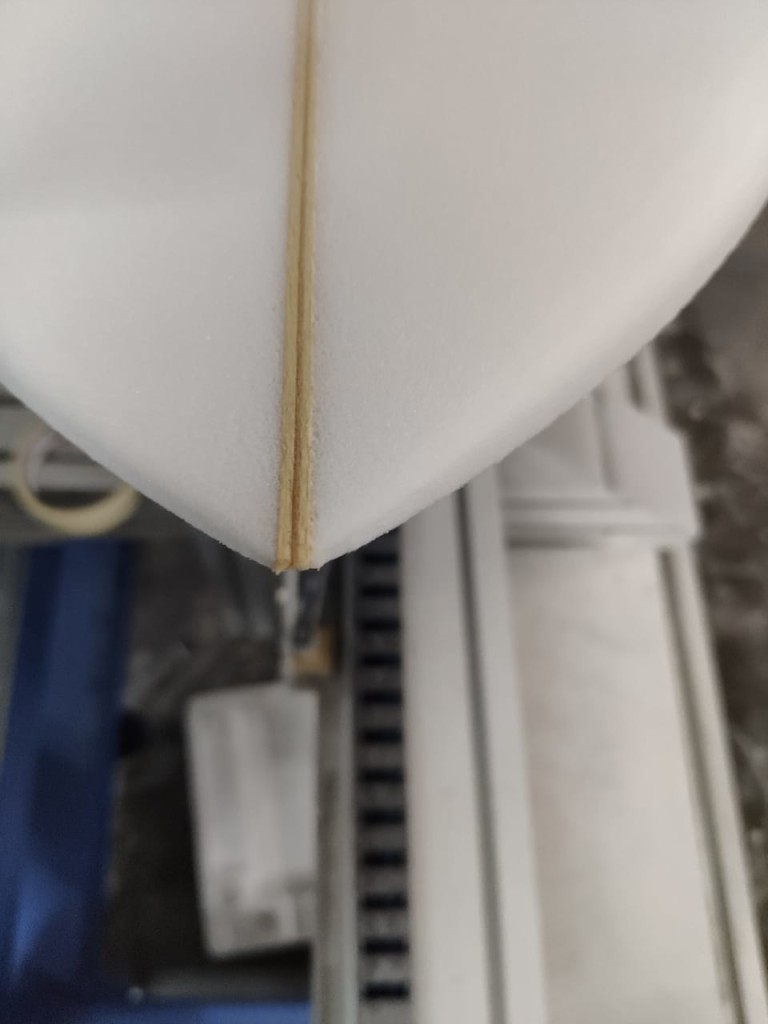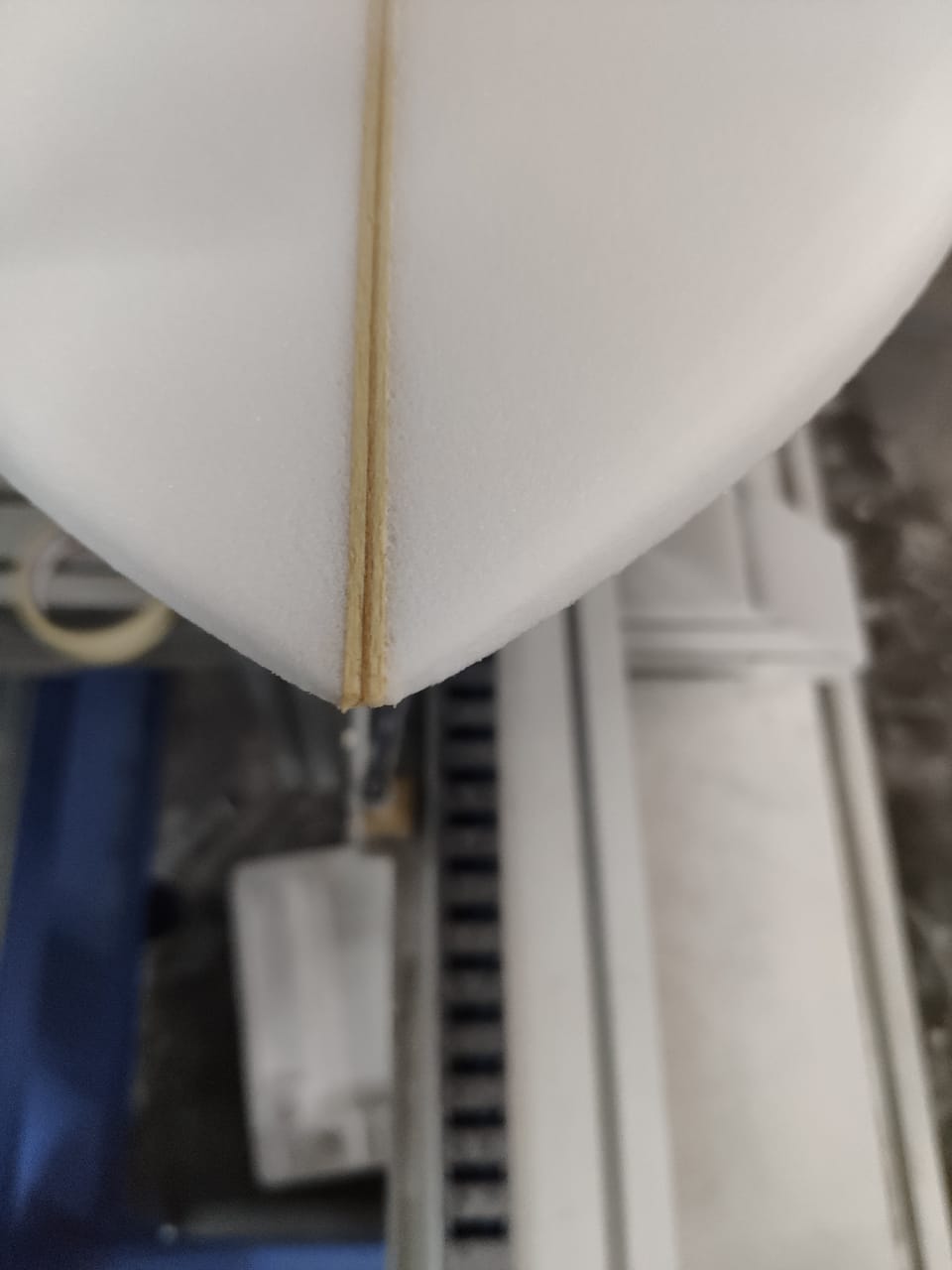 Lubrication on travel axis
is fully automated ,the 2 pump are separated.. to give better flow of oil lubricant to the runner blocks
so the maintenance of the machine is very low ,just need to clean from the dust at end of the day.
we improve the closure on axis Y to protect from dust
the runner block are already the latest model with double scraper to clean the rail if any dust on z axis .
on axis X is totally enclosed ,with make this design to get almost zero dust on
motor of x axis and linear guide rails.
the pump are with timers so can be adjusted in time and how much oil to pump
in this picture every 28 minutes for 3 seconds will pump oil in the runner blocks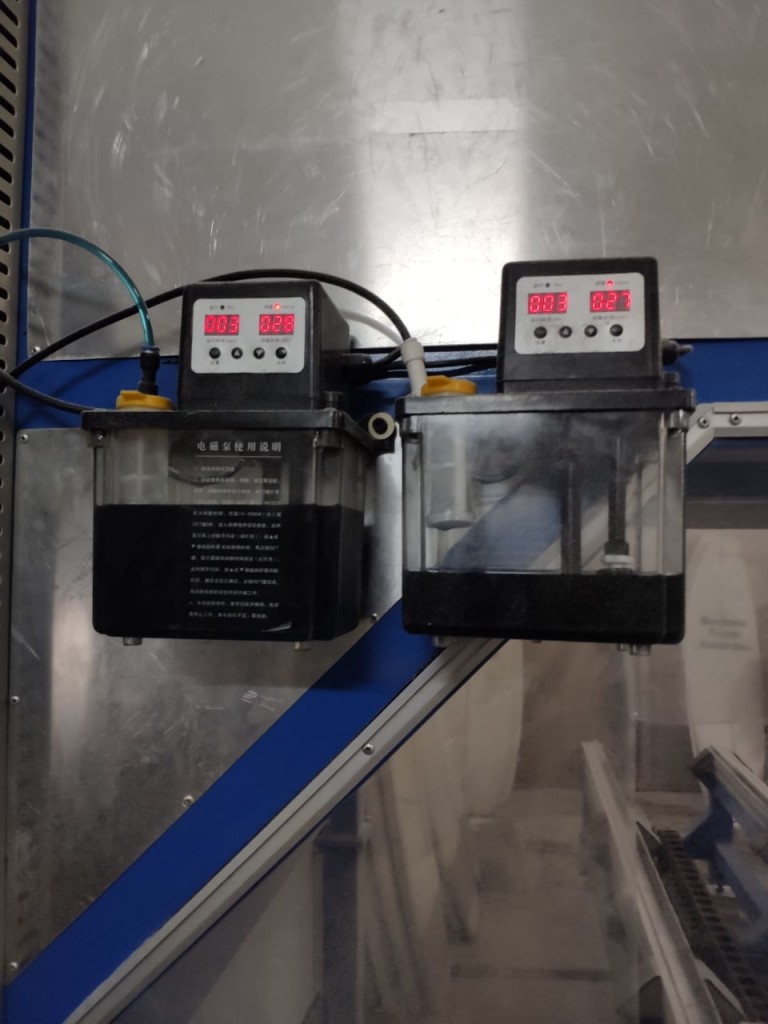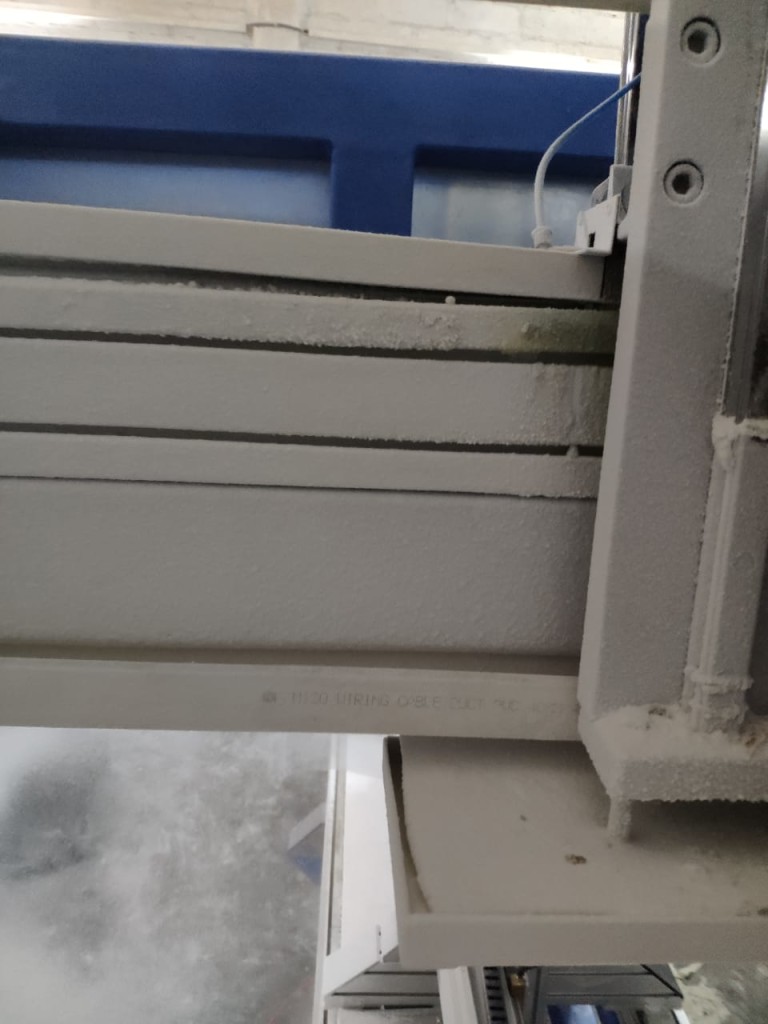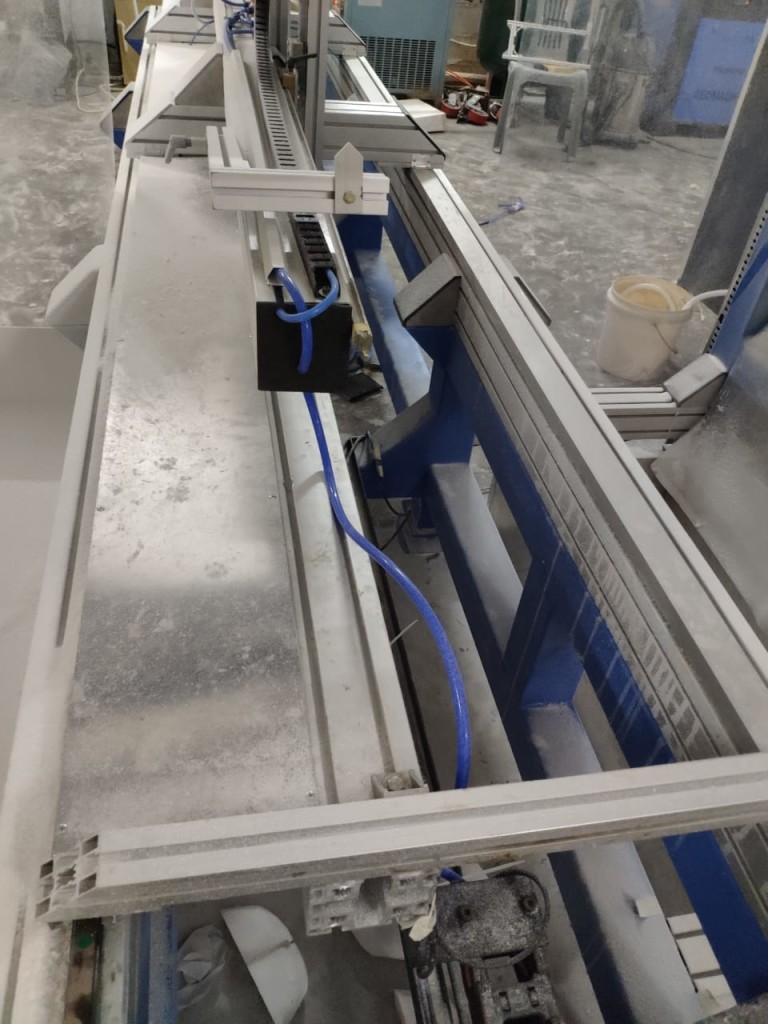 we install simple tray to collect the dust from the machine to easy clean at end of day
or after 15 cuts .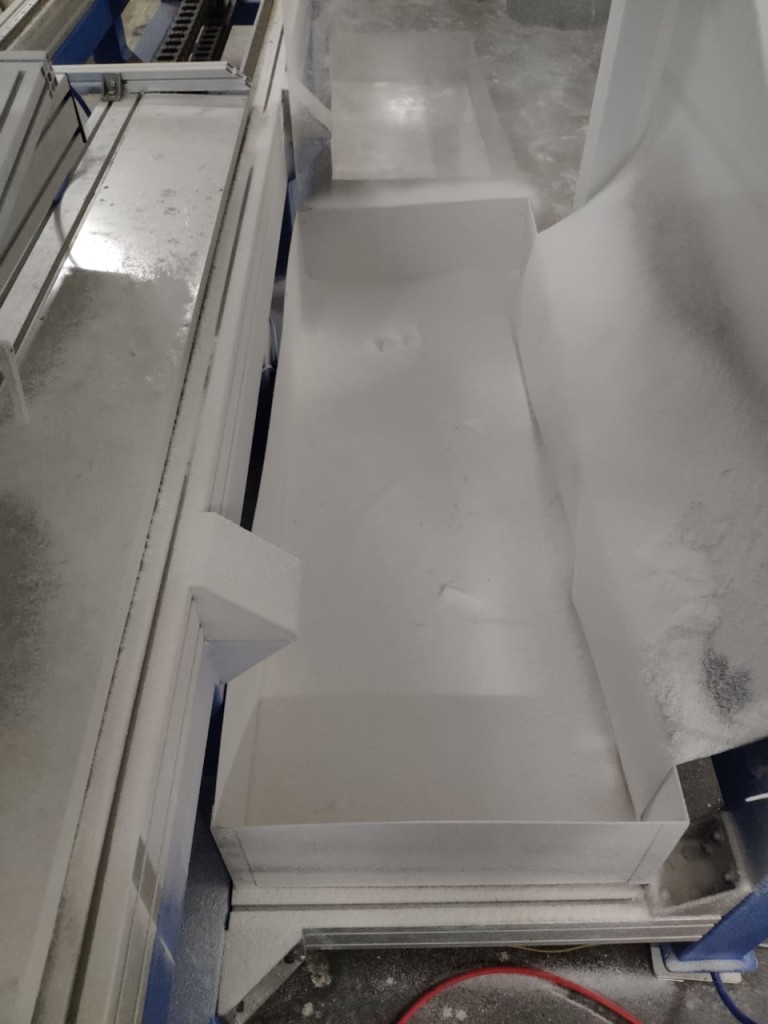 at the end you will think yes nice but ,how much cost?
machine like this to build take about 3 months time .
yes some parts are from china ,but we been using also product hi end like yaskawa japan or fanuc
but most of clients want a lower price ,
so we check for quality , precision and durability and price .
with the top gamma from Chinese manufacturer you can get the same quality and precision
with an affordable price.
this machine can cut until length of 13 feet
and wide 45 inch so can cut any surf sup of windsurf model.
price fob bali for export is 765.000.000 rp
more less 52.000 usd
can be shipped with 2500 usd in container
if need more info or wanna see operating the machine
you can contact us .
we don sell the machine by cm,or we charge you for extra for special parts
like when you buy something at beginning cheap and after you need to up grade
because the spindle is not strong enough for cut 24 hours or servo is not industrial type..or
the vacuum system doesn't work for heavy longer period of use…or there is no lubrication system
or the panel controller box doesn't have included a chiller to keep the electronic at correct temperature…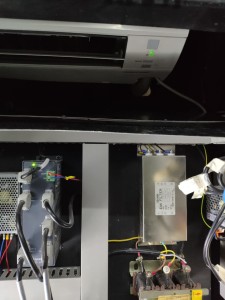 or not have a emi noise filter for the electric source and a reactor and after spindle noise cab create problems…
many small things make a huge difference.
even access to climb at the top of the machine for cleaning.
so we use all our experience in many years of experience in built cnc to make the work with machining more easy .
you are board manufacturer but now you produce cnc? i been building cnc already 17 years, is my hobby , make machines….automation ,electric motor ,plc,arduino ecc
yes …im little bit a tech nerd…. so i just decide to advertise my job and machines,maybe you are interested.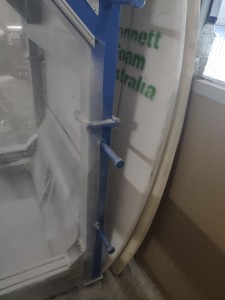 like other clients i suggest come in bali
test the machine and learn how to use with us , or if you already expert on machine..
just come for surf trip..
so after you don't need to pay extra thousand of dollars to us to come and install the machine
at your place.