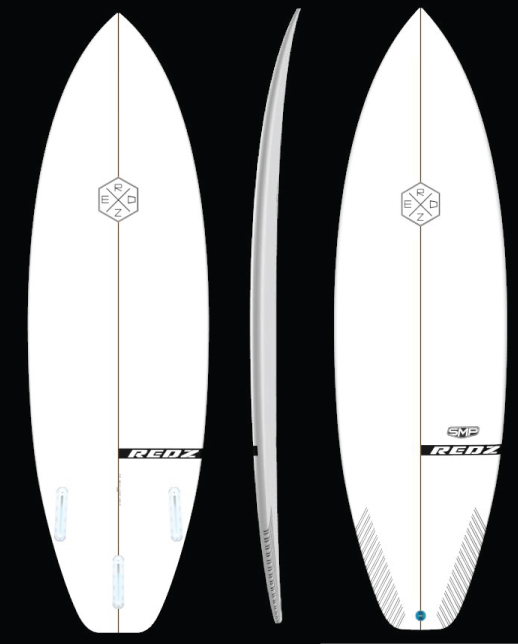 SMP…
This new shape is a perfect shape design in between a performance shortboard and a fish design,
without sacrifice any performance ,for have a board react like a shortboard but with more area on nose
for paddling ,the hip on the one foot from tail ,  make the outline on tail  more narrow to have more snappy curve.
The shape have a deep single in double concave a medium rocker with extra kick tail.
the SMP is suitable for every level of surfer  for wave from knee to head high .
| Length | Width | Thickness | Volume |
| --- | --- | --- | --- |
| 5`4 | 18 1/4 | 2 1/8 | 23.1 L |
| 5`5 | 18 1/2 | 2 3/16 | 23.6 L |
| 5`6 | 18 3/4 | 2 1/4 | 25.0 L |
| 5`7 | 19 | 2 5/16 | 26.4 L |
| 5`8 | 19 1/4 | 2 3/8 | 27.8 L |
| 5`9 | 19 1/2 | 2 7/16 | 29.3 L |
| 5`10 | 19 3/4 | 2 1/2 | 30.9 L |
| 5`11 | 20 | 2 9/16 | 32.5 L |
| 6`0 | 20 1/4 | 2 5/8 | 34.2 L |
| 6`1 | 20 1/2 | 2 5/8 | 35.1 L |
| 6`2 | 20 5/8 | 2 3/4 | 37.4 L |
| 6`3 | 20 3/4 | 2 3/4 | 38.1 L |
| 6`4 | 21 | 2 7/8 | 39.9 L |
| 6`5 | 21 1/4 | 2 7/8 | 41.3 L |
| 6`6 | 21 1/2 | 3 | 42.2L |
| | | | |
| GROM | SIZE | | |
| Length | Width | Thickness | Volume |
| 4`6 | 16 3/4 | 1 15/16 | 15.7 L |
| 4`10 | 17 | 2 | 17.7 L |
| 5`2 | 17 1/4 | 2 1/16 | 19.7 L |
| 5`4 | 17 3/4 | 2 1/16 | 21.1 L |
help to find you the correct volume